Overview
Thecus already has an 8 bay rackmount NAS, the N8200XXX featuring a quick Intel® Atom™ processor and providing a very good value. This product fills an important niche in the market and provides users with an excellently priced large storage NAS. Before this, Thecus was already known for innovative and powerful appliances such as the N8800SAS with SAS support and heavy-loaded hardware. With the N8900, they've decided to go one step further in performance and provide a state of the art NAS device for the most demanding users: USB3.0, HDMI output, and 10Gb Ethernet compatibility are only some of the key features included. Let's have a closer look.
Powerful Hardware for Superior Performance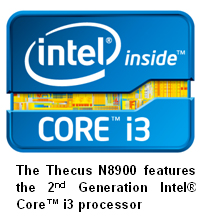 As part of the latest generation of leading CPUs on the market, the Intel® Core™ i3-2120 processor integrates 2 cores at 3.3GHz to match the N8900's no less than 8GB of DDR3 memory. Fast RAID operations, multitasking, reactive virtualized environments, application serving, and more; anything your business needs.
To maximize your data safety, the N8900 benefits from a unique Thecus feature: Dual DOM design. The DOM (Disk On Module) is the equivalent of the BIOS on a computer: if it fails or gets corrupted for any reason, all your data can be lost forever. Thanks to Thecus Dual DOM design, there is a second DOM ready to replace or reprogram the first one. In this way, Thecus has reduced DOM failures by 67%!
A Design Focused on Flexibility

The N8900 also embeds what's best for connectivity: two USB 3.0 ports, audio output/input, and an HDMI connection. Those will also give users even more possibilities when writing their own modules thanks to the brand new Thecus software developer kit.
In addition, the N8900 is built with several free PCI-e extension slots (one 4-lane and two 8-lane slots), which can be used for virtually everything. For instance, you can decide to add more USB 3.0 or eSATA slots. For companies with higher-end needs, you can choose to install a 10Gb Ethernet adapter, allowing you to use either traditional fiber or high-performance/low-cost base-T cables!
Speaking of flexibility, the N8900 is compatible with every common (and not so common) file system: Ext3, Ext4, and XFS. There are also 6 modes of link aggregation supported to maximize performance. Coupled with 6G SAS hard disks, the final results can't be wrong!
Features
High Availability (HA)
For the first time, your data is completely free of delays in access. Regardless of the situation, HA actively keeps your data on two separate, identical NAS. If one needs maintenance, the other will dutifully rise to the occasion without as much as a blip in service. Whether rain, shine, or Armageddon, your data will always be there.
10GbE Ready
High-end data centers often need a level of speed that today's average Internet cannot provide. This Thecus NAS is 10Gb Ethernet ready to satisfy the toughest needs of today and tomorrow.


USB 3.0 Connectivity
The next generation of connectivity is here with speeds 10x faster than USB 2.0. Whether connecting digital cameras and smart phones, backing up large external hard drives, or extending the capacity of your NAS, USB 3.0 will make sure it's done in no time at up to 5 Gbit/s. Backwards compatibility adds the connectivity of a world full of USB 2.0 and USB 1.1 devices to get the best combination of speed and universal access.
Acronis True Image
Thecus brings the best to the table with Acronis's advanced backup software. Back up all your data with One-click Protection or pick and choose only your most important files. Acronis sports a slick interface, user-friendly design, and comprehensive features to keep your data safe.
Dual DOM
A Disk On Module (DOM) contains all of the system's critical software. If it stops working for any reason, your system firmware could be inaccessible - or worse. With Thecus®' unique Dual DOM (OS Redundancy) design, a secondary DOM automatically reprograms the primary DOM if it fails, meaning your data is always safe and accessible.
Multiple RAID
When it comes to data management, Thecus NAS truly let you have it your way. Create multiple RAID volumes each supporting different RAID modes including RAID 0, 1, 5, 6, 10,50, 60 and JBOD for your own balance of performance and data protection. Should a hard drive malfunction occur, changing one is simple thanks to online RAID migration and expansion, hot spare, and auto rebuild.
Multiple File Systems
Support for multiple file systems including Ext3, EXT4, and XFS, gives Thecus NAS flexibility to handle many different types of environments. Users can simultaneously use different file systems across multiple RAID volumes to get the best of each one.


iSCSI Thin-Provisioning
Get the most out of your storage space with the extreme speed of iSCSI and the efficiency of iSCSI thin provisioning. Connect through iSCSI for the fastest data transfer speeds available and make wasted disk space a thing of the past with thin provisioning's flexible storage functionality.
iOS/Android Connectivity
In the modern world, nothing is as important as reaching your data from anywhere. With T-OnTheGo and the T-Dashboard, you can manage your NAS, and upload to and download/stream from your NAS using an iOS or Android device on the go.
Rsync
Backing up your data is very necessary, and everyone has specific needs when it comes to storage. Thecus's Rsync functionality gives users great flexibility with remote backup capability, a flexible scheduler, and the stability of Linux-based transfer.
User Quota
Divide the massive storage of a Thecus NAS among multiple users. Whether there are two users or 100, user quotas make it easy to divvy up and manage disk space.


PCI-e slot
Thecus NAS products are ready for a number of emerging technologies. Through the built in PCI-e slot, business users can add a 10G Ethernet Adaptor for lighting fast transfer speeds, or a USB 3.0 Adaptor Card to enjoy next-generation connectivity.